Health
What Type of Hydro Flask Sticker Is Best for You?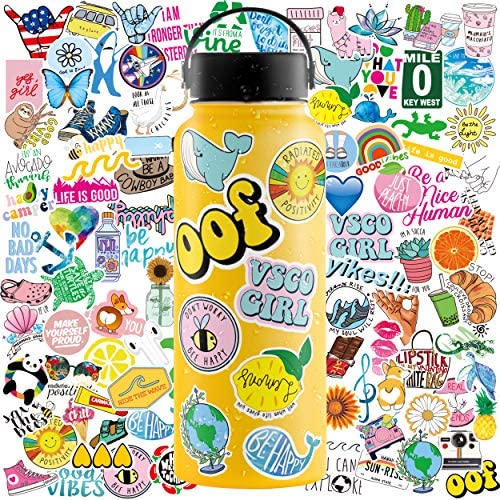 Hydro flask stickers and decals are an excellent way to add flair to any reusable water bottle. These stickers have become the hot new trend, and it's easy to see why.
Hydro flask stickers show off your unique personality, artwork, business logo, memorable snapshots, and more. The possibilities are endless, but which type of sticker is best for you?
Compare These Types of Hydro Flask Stickers
There are many types of hydro flask stickers to choose from–including decals, classic stickers, and vinyl. In addition, these stickers can be customizable, letting you personalize your reusable water bottle stickers down to their very last detail. To get started, compare these popular types of hydro flask stickers.
Decals
Decals are specifically designed to be transferred to another surface. The transfer method and material are key differences between decals and classic stickers. Unlike classic stickers, decals use heat or water to transfer to another surface. Generally, decals can be placed on glass, ceramic, metal, or porcelain objects. Most decals are outdoor products, so they're common for them to be highly durable and water-resistant or waterproof.
Classic Stickers
Classic hydro flask stickers are similar to traditional stickers you can place on other items, such as binders. Classic stickers can be placed on nearly any material. They are usually made with paper. Because of their materials and simplicity, classic stickers are usually the most affordable type of sticker.
However, they're also often the least durable. Classic hydro flask stickers may be water-resistant, but they will still absorb water and tear more easily, leading to faster deterioration than vinyl stickers or decals.
How to Waterproof Classic Stickers
While classic stickers are difficult to make waterproof, there are ways to extend their longevity and protect them from moisture.
Stickers designed to be waterproof commonly include waterproof ink that helps retain the quality of the sticker after it is exposed to moisture.
You can use a waterproof sealant or laminate sheet to protect your classic stickers further.
Vinyl Stickers
Vinyl hydro flask stickers are generally viewed as the most durable option. Since they're composed of vinyl, they deteriorate more slowly than classic stickers and are not affected by water. Since vinyl is a type of plastic, they're also more difficult to tear.
Because of this, vinyl stickers can often be reapplied, so you can make sure that your sticker is placed precisely where you want it. Additionally, vinyl stickers do not always contain backgrounds, making the design look seamless and professional.
The Bottom Line
There are several types of hydro flask stickers to choose from. However, the kind of sticker that's best for you will depend on the material you intend to place the sticker on, the durability you're looking for, and whether you'd like your sticker to be water-resistant or waterproof.